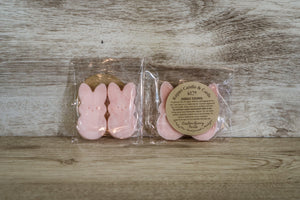 Easter Bunny Wax Melt
Easter Bunny Wax Melts
Set of (2) bunnies in (1) bag.
Scent: Easter Bunny Burps (This vibrant blend of shimmering garden greens is highlighted with a hint of mint for a fresh sensation. A blend of spring flowers is tucked away among the green tones for added texture, while sandalwood creates glowing warmth for the blend. Hints of musk finish the fragrance.) This is a light fragrance that is a Natures Garden Scent Exclusive)
*** Easter Bunny Burps is a Natures Garden Original Scent ***
These cute little guys are made to order. If you would prefer a different color, please let me know.
A great alternative to the traditional candle to keep your home smelling great without a flame! Just add a piece to your wax warmer.
All pieces use Phthalate free fragrance oils and are hand mad in Michigan.
Directions:
To prevent fire or injury: Remove all packaging before use. Only use in UL listed electric warmers that are approved for wax melts. Read and follow all directions for your wax warmer. Do not leave unattended while in use. Keep away from pets and children. Never leave on when away.
Please make sure you only ever melt the wax in an approved container to avoid the risk of injury. Read all directions for your wax melter/warmer prior to use.
Do not add water.
To remove wax from melter, some pop in the freezer for 3-5 minutes and it pops right out.
Do not use a sharp object to scrape melter, this may damage your melter.
Customization - Please let me know if you would like other colors or scents.
Available colors: Blue, Purple, Orange, Pink, Red, White, and Teal
Available scents:
Jelly Bean
Snuggable (lily of the valley, violet, and finishes with base notes of lavender, gardenia, and amber.)
Peppermint fluff
Hydrangea
Lavender
Lilac
Sweet Pea
---
We Also Recommend